This update is straight from our 410 Bridge Haitian Staff.
Project / Programs Currently Running:
Sponsorship program
Water project
Savings and Credit Ministry
BST program
Latest update for the community as a whole:
The Monarch community has struggled to find clean drinking water for a long time. The community members used to take water from a local river, but it made the children ill. As a partner of the community, 410 Bridge has been thinking about how to resolve this issue. Praise to the Lord. 410 Bridge decided to support the water project, and work together with the community. Currently they are waiting for our Partner Water Mission to finish the project, so they can begin drinking water from this well.
Savings and credit ministry 
The savings and credit ministry is going well in Monarch. People in the community have agreed that this program should've been integrated into the community a long time ago because it is so useful. People from different churches really appreciate this program as well. People have come to take loans from the savings and credit ministry to start businesses and take care of their families. There are 26 savings and credit groups from different churches in the community and 346 group members. There are 18 people working as facilitators.
Business Start-i[ Training Program 
The BST Program works very well in the community. As the Bible says people are dying from lack of knowledge, so investing in people of the community by educating them on business is one of the many tools that will allow the community to grow. There was a BST training in the community that ran from June 3rd, 2019 to July 3rd, 2019. In total, there were 40 participants divided into 2 groups of 21 and 19 people. All the participants had homework to start a business with 500 gourdes as part of their training.
Foundations for Farming
The community hadn't experienced rain in 7 months, so they prayed to be blessed with rainfall. We praise the Lord! From April to June 2019 it rained almost every week. The corn and beans started growing very well in the fields. The LC has been trained on new techniques for growing vegetable crops and they feel very motivated. They already have a demonstration plot to practice on which will also be used as a community garden.
Sponsorship program 
The Sponsorship Program and the Discovery Kids Program work well in Monarch community. It has helped the children learn a lot about the Bible and living together as brothers and sisters. They have also taught the children hygiene lessons and how to take care of themselves.
Biggest challenge community is facing if any? 
The biggest challenge the community is facing now is finding access to a health care center. Often times when somebody has a problem in the community, they must walk a long distance to go to a clinic or hospital. We are praying to have a clinic in the community so that people can have access to health care. 
Story of a beneficiary with quote: 
"My name is Desauguste Marcel. On behalf of all the participants, we thank The 410 Bridge for the Business Start-up Training they brought to the community and for teaching people how to manage their own businesses. In the past, we didn't know how to manage our businesses, but after taking the training, we have the capacity and knowledge to manage and run them on our own."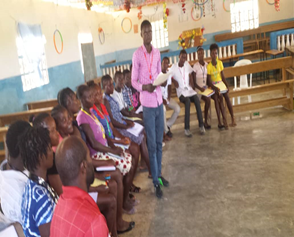 How can we be praying for the community? 
Please pray for the country of Haiti and the political crisis
Pray for the leadership council, that they are willing to continue helping others the way they have
A clinic for health care in the community