IT'S TIME WE RECOGNIZE THAT BREAKING THE CYCLE OF POVERTY REQUIRES A DRAMATIC SHIFT IN WORLDVIEW… NOT JUST THERE, BUT ON BOTH SIDES OF THE BRIDGE!
Church
Partnership
Walk together alongside a community on their journey of development.
Partner with a community, based on the unique gifts, and needs of the church partner and the community.
Providing the church an accessible way to go and serve, not just once, but by building a lifelong relationship with the people in that community.
Work with, not for, the community. Share the love of Christ and help the people meet their own needs.
The partnership extends beyond just a mission, but a relationship. Our desire is to help the Church in the West, build deep and lasting relationships where sustainable transformation and life change can be seen and felt by the community and the church partner.
Corporate Partnership
An opportunity for businesses to use their resources and the gifts of their employees to make a dramatic impact in the world.
A shared goal of sustainable, community-initiated development in some of the poorest communities in the world.
Team building and corporate philanthropy opportunities
Go deep to make a lasting change.
Challenge your team to be a part of something much bigger than themselves, to develop as a team in environments that will challenge their worldview.
Strategic
Partnership
We do not consider ourselves an expert in every aspect of community development, so we believe in finding strategic partners.
There are many charities, NGOs, and para-church organizations that do excellent work in specific facets of community development.
Join us as a Strategic Service Partner, willing to work with, not for, a community by adopting the community-initiated philosophy of The 410 Bridge.
Be a part of a true partnership where your area of expertise can be used towards water, sanitation, micro-enterprise, health & wellness, education, and discipleship programs.
"I am so elated that the program didn't only transform me economically, but it did help me grow spiritually."
Patrick Kiberenge Muriuki
Tumutumu Community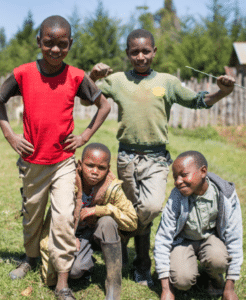 SHORT-TERM EXPERIENCES
Because of our unique community development model, communities are empowered, and projects become indigenously sustainable. Moreover, they are not dependent on Western short-term missions teams to complete or maintain the project. When you visit a 410 Bridge community, you are engaging in the work already happening in that community. You become a catalyst for community participation, and it allows visitors the time and energy to pursue relationships first and the projects second.
We offer opportunities for you to get involved. And we invite you to experience our unique model of development firsthand.
What Our Partners are Saying
"What I love about our partnership with The 410 Bridge is that they genuinely care about making an impact in the local church on both sides of the bridge. Their partnership with our church has equipped us to develop new ministries and stretch our people in ways we had never thought of before. Their strategy makes sense, and it is working!
– First Bossier, LA
(attendance: 3,000)
"Over the years we've vetted many, many organizations that "say" they do sustainable, community-initiated development. The 410 Bridge is the only organization that we've found that actually has the discipline to do it right. Amazing."
– Large International Christian Foundation
"Sustainability, holistic development, and creating independence verses dependence: these are words that are commonly used these days by many organizations, but most fail to live up to these standards. globalX has found The 410 Bridge to be one of those rare organizations that has the right plan to make a lasting difference in the developing world. They have been a true joy to work with. "
– globalX Leader
North Point Community Church
(attendance: 30,000)
"We've been partnering with The 410 Bridge since they were founded. We love their model of ministry and all they are doing to strengthen the global church."
– Leader,
Parker Hill Community Church, PA
(attendance: 2,000)